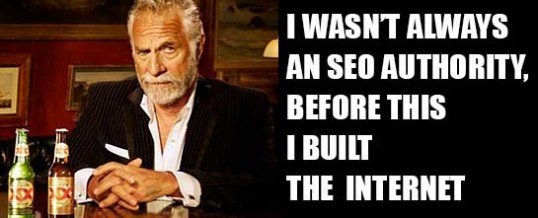 SEO authority is what transforms an ordinary website into an online whale? We tend to listen to people or groups that we feel have a proven track-record in certain subject or a proven bank account. When this trust is established consumers happily invest because everyone wants to be with a winner.
Say it with Authority
A website that's considered an SEO authority is a recognized leader in their particular niche. Reviews have become a growing method for businesses to establish their brand utilizing direct customer feedback. But there are many other ways for website to claim the coveted crown of authority such as on and off page optimization, server-side scripting, fresh original content and of course signals sent from social media networks. Since optimization is one of the key terms in SEO, Search Engine Optimization, no one technique holds the magic key in making a website an SEO authority.
Every business hits a milestone
successful businesses make it a habit of it.
Everyone has Rocky hidden inside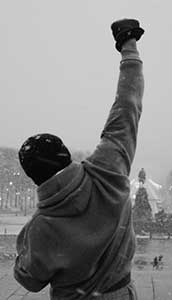 It all starts with a love for what one does. In choosing a niche one should consider something that they are naturally drawn towards. If one absolutely loves what one does, there is an endless supply of energy that tells the story in itself. Every business hits a milestone and successful businesses make it a habit of it. Depending on the way in which these milestones are celebrated can make or break a growing business. Small businesses often take for granted the time the've been in business and forget to publicize these milestones losing out on valuable opportunities to cement themselves as an authority.
Today's market loves the story behind the business, so it's imperative to maximize all efforts to tell a story. SEO does an excellent job at maximizing a website's information to reach a broader audience. Without it, any website would rely on word-of-mouth, which is a proven sales strategy, but it cannot compete with the Internet because it simply know more people than you do.
An SEO Authority No One Knows
Becoming an SEO authority may seem like an obvious need but you'd be surprised how many businesses simply overlook this pink elephant is search of the get-rich-quick method to promoting their product or service. Just like it takes hard work and due diligence to build an authoritative business that your consumers come to rely on, becoming an SEO authority also requires a consistently intelligent strategy in order to rule search engine results.
One of the most effective methods of becoming an authority is video. This is partly due to the fact that just over 30 million Tubers watch over 5 billion videos each day. Combined with the widely accepted smartphone format, it pays to advertise on a platform that your potential customer carries with them 24/7.
The climb to the top presents unique challenges in the ascent, but the good news is once you're established an an SEO authority the view is worth every step. The reward of being forever cemented as an SEO authority in your search engine rankings will return what was invested exponentially as long as you continue making, telling, and sharing your story.
Share