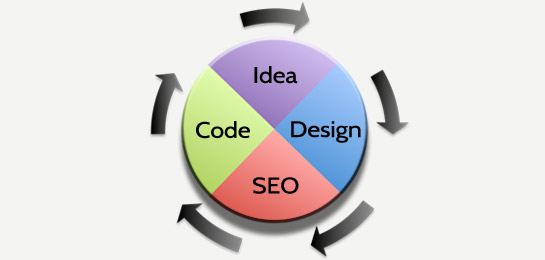 With so many websites online these days, simply launching a small business website isn't enough. Your website has to deliver results and stand out from your competition. Here are  a few tips that any small business owner should keep in mind before launching their small business website.
First things first, hire a designer. Although there are many online services that try to sell you on how easy it is to build your own website, eventually, you will need a web designer. As a small business owner you have many other things to deal with in running your business, namely strategy. But, this doesn't mean you can't strategically plan the design and content of your small business website to ensure maximum efficiency and impact when it's time to build.
5 Essential Elements of a Small Business Website
Research– Before you decide upon the domain name for your website and a content strategy, consider where and how your website will receive the greatest exposure. Search engine optimization begins with initial good research and hinges upon your ability to match your product or service with the right keywords to target for your market. Your competition is always a good place to start. Sometimes there's no need to reinvent the wheel, if you find a successful competitor then they're doing something right so take note of their SEO structure.
Domain Name– Once you've completed the research and you have identified your focus keywords, it's time to choose a domain name. Catchy could be better, and more expensive, but relevant wins every time. For maximum return, try adding one of your focus keywords in the url. Also keep in mind that TLD's (top level domains), like .com, .org, and .net will generally fair out better than  others.
Web Hosting– This can be a tricky one. If you're hiring a web designer for your small business website, which I recommend, go with the host they recommend as they are probably very familiar with the server's operating system and needs. Don't be tempted by cheap web hosting services just to save a few bucks a month. Cheap services usually mean slower load times and less disk space for your website. Remember a fast-loading website that's always online will delivery optimal results.
Installation and Testing– By now you should already be working with a web designer that will take care of this part for you. Just be sure that while installing and testing that you have your website blocked from search engine indexing while you smooth out the rough edges. Also, don't leave anything to chance. Go through each page of your website to be sure everything works.
Maintenance and Marketing– These days most websites are built on powerful CMS platforms that allow you to manage your own web content. Adding pages, posts, or articles is as easy as logging onto the backend of your website and clicking a few buttons. Marketing however is a completely different ballgame but due to your diligent research in step on your on-page SEO has given you a solid foundation to work from.
More on Small Business Website Marketing
To successfully market your small business website you have to know your customers habits. What info they are looking for and what signals cause them to buy. What keywords will they use? Which search engines? Is it easy to see what you are selling? When your customers search for a particular product or service, they will usually go with the one that has the most informative material. Educate your customers not only about the product, but about it's many uses and how it will simplify their lives.
In any small business website marketing budget always include SEO services. With good SEO services you will climb to the top of search engine results and enjoy tons of traffic from customers looking for your product or service. Remember, 80% of clicks come from the first page of search engine results within the first 3-5 positions. If you can get your website to these positions with good website content, then it's almost a guaranteed success.
Here a few more concepts to keep in mind when building your small business website.
Use a professional business address.
Market your business personality.
Market your business personally.
Make it easy to contact you.
Feature your best.
Be sure images are fast-loading and professional.
Think like a CEO.
Market like a pro.
Do numbers like an accountant.
Schmooze like a sales rep.
Write good snappy content to keep viewers engaged and coming back for more.
Share