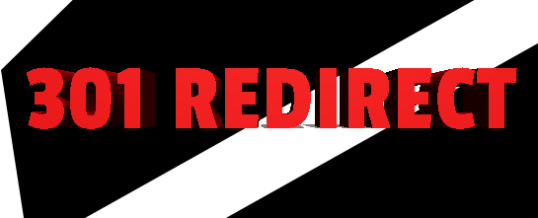 301 redirects are used when moving web pages to a new url. You may have had a major update to your information, (new domain), or you could be replacing the current page with a completely new page of content. Your web pages collect domain authority and search engine rankings that you will want to keep flowing to the new url. Most importantly you will want to use a 301 redirect to keep returning and new visitors coming back for more.
If you've ever moved and forwarded your mail to the new address then you will understand the importance of the 301 redirect. You wouldn't want to miss out on any mail just like you wouldn't want to miss out on visitors to your website. A proper 301 redirect takes care of rerouting your visitors just like the post office would when you set up mail forwarding during your move.
Properly disposing of 301 redirects from the old to the new is about one year.
Let's Dissect the 301 Redirect
Have you ever visited a website and received a message reading 404 Not Found? Or better yet, have you ever clicked in a website and been directed to a page irrelevant to your search? This activity can discourage visitors from continuing on your website or returning in the future.
In addition to losing visitors you can also lose page rank and domain authority without properly setting up the redirect so that all link juice flows from the old to the new. Avoid this and you're golden.
Making You a 301 Redirect Jedi Master
It is named with the code "301" as this is the HTTP status protocol for this type of redirect. A 301 redirect is permanent in nature and they change old URLs into new ones. The user types in the old URL they are redirected to the new one automatically. 90-99% of the link juice from the old link is passed onto the new one with a 301 redirect.
Why Should you set up a 301 redirect:
Rebranding: Let's say you change your brand or website name, it's possible you could lose all inbound links and their juice. A 301 redirect jedi master will avoid this by properly routing visitors to the correct web page with a 301 redirect, hence restoring order and balance to the universe.
Traffic Snatching. People buy domain names similar to their own, but not just any domain names. These domain names already have a good amount of traffic and/or authority already. Once the old domain names get repainted via 301 redirect, the website instantly gets more traffic and search engine authority.
What Google Says about 301 Redirect shelf-life
Even thought 301 redirects are permanent, can you ever remove them? In theory, yes, they are in fact permanent redirects and you could keep them forever. Hopefully your website grows over time and as it does you won't need to rely so much on these like you did when you were still building your website's foundation. At this time you could trim the fat and let go of the old domains.
John Mueller is a Google Webmaster Trends Analyst who says that 301 redirects for a permanent site move should be up and properly functioning for about six months to a full year. This would give search engines like Google enough time to completely recognize that the site has moved.  In addition, but more importantly, you make the transitions smoother for your visitors by educating them about the move so they don't bounce after running into a '404 page not found' brick wall.
Mueller goes on to mention that old URLs should be carefully checked and changed by publishers that could be still serving broken links after the 301 redirect was pulled. Think about it, if your old links are still out there after you've removed them this would be bad for you and the publisher. So ideally it would be a joint effort between you and the publisher to educate about the move and take the necessary steps to keep things running smoothly.
To sum it up, Mueller informs us to keep the 301 redirect as long as possible to responsibly handle the move. This entails educating visitors about the move then keeping a cautious eye on Google and when it will recognize the move as permanent.
The Takeaway
With powerful moves like moving one domain to another, keep your 301 redirect as long as you have sites or links to the old URL. Don't sweat it, if you want to leave it you can. Especially if you're experiencing great amounts of traffic and visitor loyalty because if done improperly error pages and old information could cause you to lose your 'rep' and kill your search rankings.
Don't fix something that's not broken and if a considerable amount of your website's traffic is coming from these old links then keep them flowing. Why risk all your hard work when you could be focusing that energy into the next phase of your brand. More visitors and interest is good on the web, whether they like the old or the new.
Share