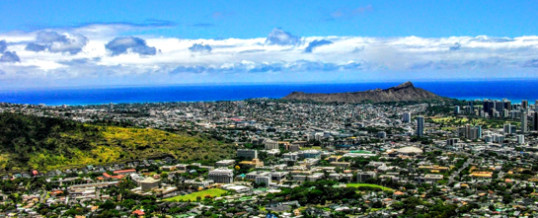 Renowned for it's beautiful sandy beaches and paradise-like lifestyle, web design in Honolulu Hawaii is a new and evolving service provided by a handful of web designers on the island. Aloha is a Hawaiian word meaning hello, goodbye and I love you. After living in Honolulu for the past few years, I've learned that the term Aloha can be applied to anything you do. We call it doing it with Aloha or living Aloha.
The Aloha State
Hawaii officially became known as the "Aloha State" by legislation in 1959 and for many years business in Hawaii has been tourism centered and focused on attracting as many people to the islands as possible to experience life-changing scenery and leisure living.
Honolulu is the capital of Hawaii, located on the island of Oahu. Oahu has a population of 953,201 (census 2010), while Honolulu has a population of  over 374,658 inhabitants. That's almost half of the entire island population living in one concentrated area.
The need for web design in Honolulu is on the rise as new small businesses seem to be forming every month. Technology has been slow to reach the islands, but as the population increases so do the individual needs of it's inhabitants. In turn, this creates the need for more diverse businesses and their need for technology like web design.
Honolulu, Hawaii has a unique business environment where independent contractors and small businesses can achieve great success. Hawaiian small business owners are some of the most creative, tenacious, and dedicated people on the planet.  As Hawaii's business profile diversifies, services like SEO, web design, and search marketing will be the determining factor in great success or mediocrity. To begin with, many businesses in Honolulu are still without a website or web presence at all. In today's changing business market, many affluent people are online and shopping.
Websites like Yelp provide consumers with instant access to business locations and reviews. This is the 21st Century and people no longer use a phone book to locate products and services and if they do, they're using online business listing sites like Yelp to find what they need. Because toady's consumer is more educated and value-minded, if a business has zero web presence or if their current website isn't maintained and fresh, they are less likely to patronize or return to your business.
Why Businesses Need Web Design Services
Many business owners think, "My business is a small operation with only one or a few employees. Why do I need a website?"
Increased profits! There are over 20 million shoppers online.
A professionally designed website will establish your brand to potential customers and let them know you are serious and your product or service.
The internet levels the playing field for businesses so small business can compete with the big boys without requiring a huge budget.
Once your website is up and running, it's online 24/7. Your storefront has operating hours, the web doesn't. Imagine hiring a salesperson that speaks all languages, that's always available to promote your brand, and never gets tired. I've often heard the saying, "It's hard to find good help these days." Well, great web design changes the game permanently.
Location! With your website you can reach new customers across the globe not just in your local area.
Web Design in Honolulu: What to look for
Eye-catching and visually stunning
Ease of navigation
Quick load time
Effective and fully functional on all devices i.e. responsive
Websites are the new face of business so make sure you treat it as such. Many small business owners cringe at the thought of hiring a web designer to build their site. If this were 10 years ago, there would be a good reason to do so but these days, web design in Honolulu is more affordable than ever.
We offer basic web design packages at an affordable price that won't break you budget and we always deliver with plenty of Aloha. Many small to medium sized businesses aren't budgeted for enterprise-sized web solutions, that's why we offer a basic web design package that delivers your brand message on a responsive website showcasing your product or service with a way for your customers to contact you. Web design in Honolulu is on the rise, ride the wave to new customers and brand influence with your new website.
Get Your FREE Consultation Today.
Share